I am an Entrepreneur and a Software Engineer who has worked in the Tech industry for more than a decade. I love building communities and products that scale. I am currently the Co-Founder of Holberton School, a two-year program training highly skilled full-stack software engineers. Inspired by Progressive Education, our curriculum is based on a peer-learning and project-based approach. What regular schools call cheating, we call it collaboration. The school is free until students find a job, and our application is only selection students based on their motivation. Our diverse group of students (30% women, 50% POC) are becoming highly skilled Software Engineers. The type of Software Engineer who work for prestigious companies such as Google, Tesla, Dropbox, NASA, LinkedIn, Apple… The school has 9 campuses, located in the USA, Colombia, Tunisia and Lebanon.
Through my work, I had the chance to partner with leaders in technology including LinkedIn CEO Jeff Weiner, Yahoo! Founder Jerry Yang, Docker founder Solomon Hykes, and Upwork CEO Stephane Kasriel. But also sports and entertainment leaders like Grammy-Award winner NE-YO,  actress Priyanka Chopra and New York Jets NFL player Kelvin Beachum.
Prior to Holberton School, I joined SlideShare in 2011 as a DevOps Engineer to support the infrastructure that served 3 billion slides every month. I was part of the team who contributed to the acquisition by LinkedIn in 2012, where I worked for 3 years.
I have a Master in Computer Science from the school SUPINFO, I studied in France, China (Hebei University of Technology) and the US (Dominican University). I moved 13 times for the first 21 years of my life, I am currently living in San Francisco.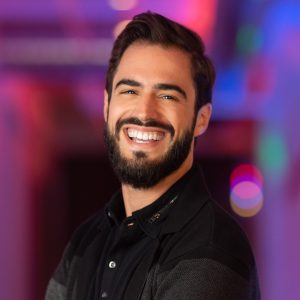 During my free time, I like to write, advise startups and travel. I love challenges, I have won the best API usage prize at TechCrunch Disrupt, went 25 meters underground in Paris Catacombs and climbed Mount Fuji at 3,776 meters above sea level. I am also part of the Forbes San Francisco Business Council. Discovering new places and cultures is something I am craving for, one of my life goals is to be able to combine work and travel to explore the world.
Side projects
while42: The largest French Tech Engineer Network, with 3,000+ members in more than 40 cities across the world.
TechMeAbroad: A platform connecting Tech talent and companies across borders.
HNWatcher: Track keywords and user on HackerNews.
Where to find me
Bylines